Aims and Scope
Santosh Dnyanmote, Jorge Alio, Anuradha Dnyanmote
---
Background:
In view of the recent outbreak of the pandemic caused by novel corona virus 19 (n-covid) which has thrown the overall healthcare system that has created fear, apprehension and anxiety amongst all surgeons. Ophthalmic surgeons are no exceptions. The new corona virus is a respiratory virus of the Coronoviridae family containing a single strand of RNA which spreads primarily through droplets generated when an infected person coughs or sneezes or through droplets of saliva or discharge from the nose. A person can get infected by the virus if the person is within 1 meter of a person with COVID 19 or by touching contaminated surface and then touching eyes, nose or mouth.
Methods:
Standard recommendations to prevent the spread of COVID-19 include frequent cleaning of hands using alcohol based hand rubs or soap and water. Covering the nose and mouth with a proper mask, covering skin, eyes, hair, hands and legs with proper apparel is important.
Just like elderly members of the society, the healthcare workers who have some co-morbidity are susceptible to COVID-19 invasion.
Asymptomatic carriers who may present with senile or pre-senile cataract can be a potential source of infection to other patients, hospital staff, surgeons and others.
Conclusion:
It is important that all the microsurgical instruments which will be used for phacoemulsification be properly sterilized. The surfaces of these instruments should remain free of contaminants as these instruments will be used multiple times in other patients as well.
---
February 16, 2021
Burak Unlu, Ziya Ayhan, Banu Lebe, Suleyman Men, Ismet Durak, Ali Osman Saatci
---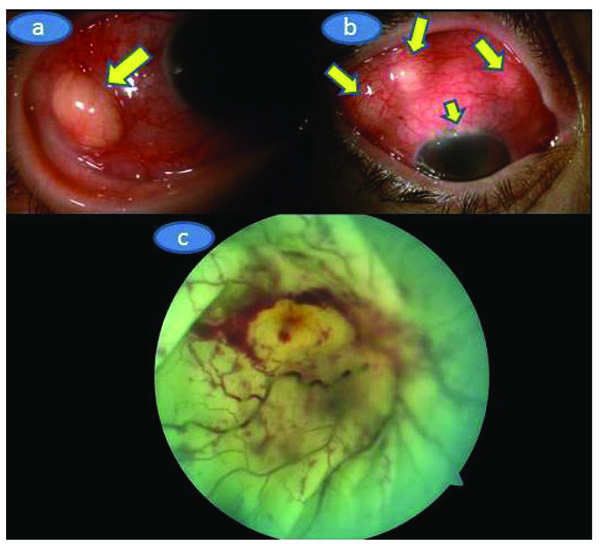 Objective:
To describe the features of a female patient with a biopsy-proven xanthogranulomatous infiltration of the conjunctiva, limbus and sclera who had an exudative retinal detachment, combined ophthalmic artery and central retinal vein occlusion unilaterally.
Method:
A-53-year old otherwise healthy woman presenting with a painful visual loss in her right eye underwent an ophthalmic examination, meticulous systemic work-up and histopathologic assessment.
Results:
Ophthalmic examination revealed multiple subconjunctival masses, upper limbal infiltrations, trace cells in the anterior chamber, pale looking posterior fundus, 360 degree scattered retinal hemorrhages and marked exudative retinal detachment in her right eye. Left eye was completely normal.A biopsy taken from one of the subconjunctival masses demonstrated a diffuse infiltration of the histiocytes and this was interpreted as a xanthogranulomatous infiltration with the help of immunohistochemical staining techniques.
Conclusion:
Present case is the only reported adult case with xanthogranulomatous-like infiltration of the eyeball featuring both anterior and posterior segment involvement without any concomitant major systemic disturbances.
---
November 23, 2017