Aims and Scope
Francesca Monteu, Gabriella D'Alonzo, Raffaele Nuzzi
---
Objective:
The purpose was to study the epidemiological and clinical features of Pediatric Pseudotumor Cerebri; we especially evaluated age, sex, sexual maturity, weight, symptoms, duration of the episode, visual acuity, correlation with systemic diseases or drugs.
Methods:
We investigated a population of 40 children (80 eyes), aged between 2 and 18 years, that referred to our Centre (Città della Salute e della Scienza di Torino - presidio Ospedale Regina Margherita) from 2000 to 2018.
All the patients were monitored with visual field exam, fundus exam and Frisen classification, pupillary reflexes, best corrected visual acuity, orthoptic exam.
Then, the demographic characteristics, BMI (body max index) and weight changes, the correlation with systemic diseases or drugs, the Relative Afferent Pupillary Defect (RAPD), the VI cranial nerve deficit, the time required for the diagnosis, the modality of onset, the correlation between diagnosis delay and best corrected visual acuity, the resolution time and the probability of recurrence were studied.
Results:
We observed 2 age peaks in our population, one consisting of adolescents (aged between 11 and 14 years) and one consisting of younger children aged between 4 and 7 years, with a statistically significant correlation between age and BMI.
The deficit of the VI cranial nerve and the diplopia were resolved within the first month, despite the longer time of resolution of the papilledema.
Headache was the main onset symptom, but after reclassifying onset symptoms per weight classes, in overweight children, we found an increased variability of symptoms (dizziness, postural instability, photophobia, nausea, vomit, strabism and diplopia, visual fogging, drowsiness, irritability). Moreover, we found only one totally asymptomatic case, during a routine visit, in a 6 years old overweight child with Down syndrome.
Conclusion:
The Pediatric Pseudotumor Cerebri is, even nowadays, a little known pathology.
To provide a correct diagnostic assessment, it will be imperative to recollect the epidemiological features of this disease.
---
September 14, 2020
Burak Unlu, Ziya Ayhan, Banu Lebe, Suleyman Men, Ismet Durak, Ali Osman Saatci
---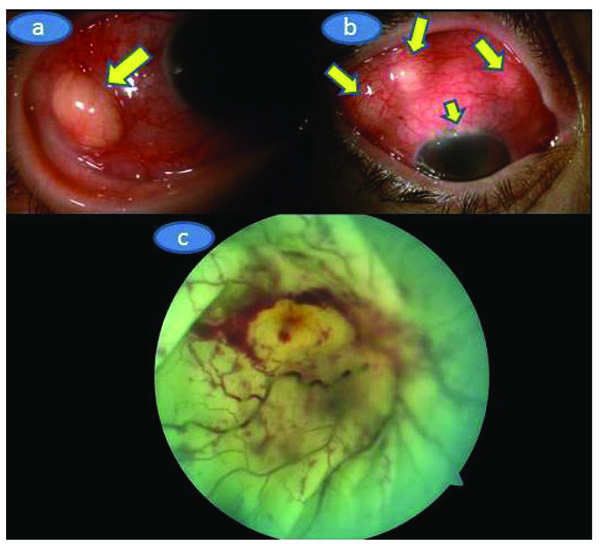 Objective:
To describe the features of a female patient with a biopsy-proven xanthogranulomatous infiltration of the conjunctiva, limbus and sclera who had an exudative retinal detachment, combined ophthalmic artery and central retinal vein occlusion unilaterally.
Method:
A-53-year old otherwise healthy woman presenting with a painful visual loss in her right eye underwent an ophthalmic examination, meticulous systemic work-up and histopathologic assessment.
Results:
Ophthalmic examination revealed multiple subconjunctival masses, upper limbal infiltrations, trace cells in the anterior chamber, pale looking posterior fundus, 360 degree scattered retinal hemorrhages and marked exudative retinal detachment in her right eye. Left eye was completely normal.A biopsy taken from one of the subconjunctival masses demonstrated a diffuse infiltration of the histiocytes and this was interpreted as a xanthogranulomatous infiltration with the help of immunohistochemical staining techniques.
Conclusion:
Present case is the only reported adult case with xanthogranulomatous-like infiltration of the eyeball featuring both anterior and posterior segment involvement without any concomitant major systemic disturbances.
---
November 23, 2017