Aims and Scope
Khalil M. Al-Salem, Ahmad T.S. Saif, Passant S. Saif
---
Purpose:
To compare the recurrence rate of primary pterygium surgery after the adjuvant use of Beta radiation, Mitomycin C, and conjunctival autograft.
Methods:
180 eyes of 180 patients were included in the study. All cases had primary pterygium excision following the use of adjuvant therapy of Beta radiation or Mitomycin C (0.02% for 5 minutes) or conjunctival autograft. The study was conducted at Fayoum University Hospital, Fayoum, Egypt, and Misr University Hospital. The patients were randomly divided into three groups, with each group comprising 60 patients. Group (A) included patients treated with Beta radiation following Pterygium excision, group (B) patients had primary pterygium excision with the application of 0.02% Mitomycin C for 5 minutes, and group (C) patients had conjunctival autograft to cover the bare area after pterygium excision. Patients were followed up for three years postoperatively.
Results:
group A had the highest recurrence rate (33.3%) followed by group B (13.3%), and finally group C presented a recurrence rate of 6.7%. Group B showed the highest rate of intra-ocular postoperative complications, while no intra-ocular complications were recorded in group C. Common complications in groups A and B were scleral melting, keratitis, and Dellen formation.
Conclusion:
Using conjunctival autograft after primary pterygium excision gives the best results regarding the rate of recurrence and postoperative complications. Meanwhile, B-radiation or Mitomycin C did not prove to be as good.
---
December 31, 2020
Burak Unlu, Ziya Ayhan, Banu Lebe, Suleyman Men, Ismet Durak, Ali Osman Saatci
---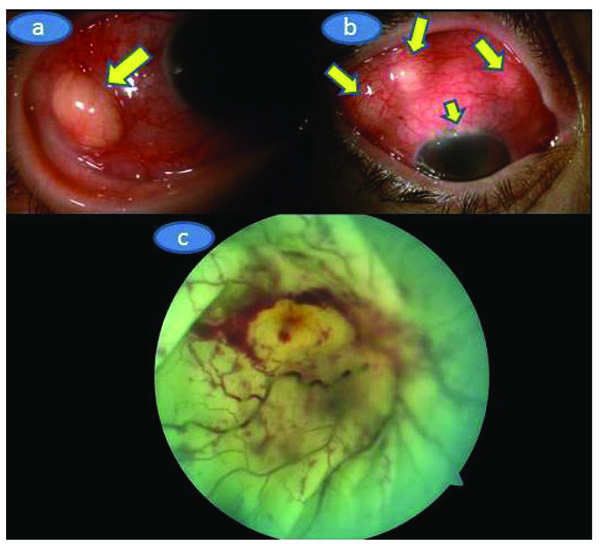 Objective:
To describe the features of a female patient with a biopsy-proven xanthogranulomatous infiltration of the conjunctiva, limbus and sclera who had an exudative retinal detachment, combined ophthalmic artery and central retinal vein occlusion unilaterally.
Method:
A-53-year old otherwise healthy woman presenting with a painful visual loss in her right eye underwent an ophthalmic examination, meticulous systemic work-up and histopathologic assessment.
Results:
Ophthalmic examination revealed multiple subconjunctival masses, upper limbal infiltrations, trace cells in the anterior chamber, pale looking posterior fundus, 360 degree scattered retinal hemorrhages and marked exudative retinal detachment in her right eye. Left eye was completely normal.A biopsy taken from one of the subconjunctival masses demonstrated a diffuse infiltration of the histiocytes and this was interpreted as a xanthogranulomatous infiltration with the help of immunohistochemical staining techniques.
Conclusion:
Present case is the only reported adult case with xanthogranulomatous-like infiltration of the eyeball featuring both anterior and posterior segment involvement without any concomitant major systemic disturbances.
---
November 23, 2017