Aims and Scope
Ali A. Abusharha, Ali Al Yami, Khaled Alsreea, Raied Fagehi, Ali Alsaqr, Saud Alanazi, Ali Masmali
---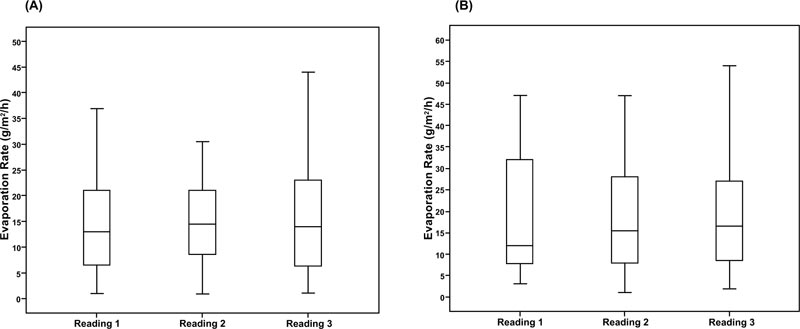 Purpose:
This study evaluates the repeatability and reproducibility of tear film evaporation rate measurement using a commercially available handheld closed-chamber evaporimeter (VapoMeter, Delfin Technologies, Finland).
Study Design:
This was a randomized observational study, in which two visits were required. At visit 1, screening tests were performed on the participants. Subsequently, tear evaporation was measured thrice by examiner 1 (E1). The procedure was then repeated by examiner 2 (E2) at visit 2.
Methods:
40 healthy participants with no ocular diseases were recruited for this study. A closed chamber evaporimeter was used in this study (VapoMeter, Delfin Technologies, Finland). Primary investigations, including slit-lamp examination, tear production test, and ocular discomfort, were performed during the first visit for the purpose of screening.
Results:
The mean of the three measurements of tear evaporation obtained by examiner 1 at visit 1 was 19.38 ± 0.79 g/m2/h, and the mean of the three readings obtained by examiner 2 at visit 2 was 20.49 ± 0.48 g/m2/h. The average Intraclass Correlation Coefficient (ICC) among the three readings of tear evaporation was 0.84 and 0.63 with a 95% confidence interval (CI) at visits 1 and 2, respectively. A comparison of the reliability of the measurements from the two examiners revealed an ICC of 0.69 with a 95% CI.
Conclusion:
The VapoMeter provides repeatable and reproducible measurements of tear film evaporation. This study demonstrates that the VapoMeter could provide clinicians with a readily available method for rapid evaluation of tear film evaporation. By considering the significance of tear evaporation as a diagnostic tool for dry eyes, the VapoMeter may help to diagnose better and manage dry eye syndrome.
---
July 14, 2021
Ramiro M. P. C. Salgado, Paulo F. A. A. S. Torres, António A. P. Marinho
---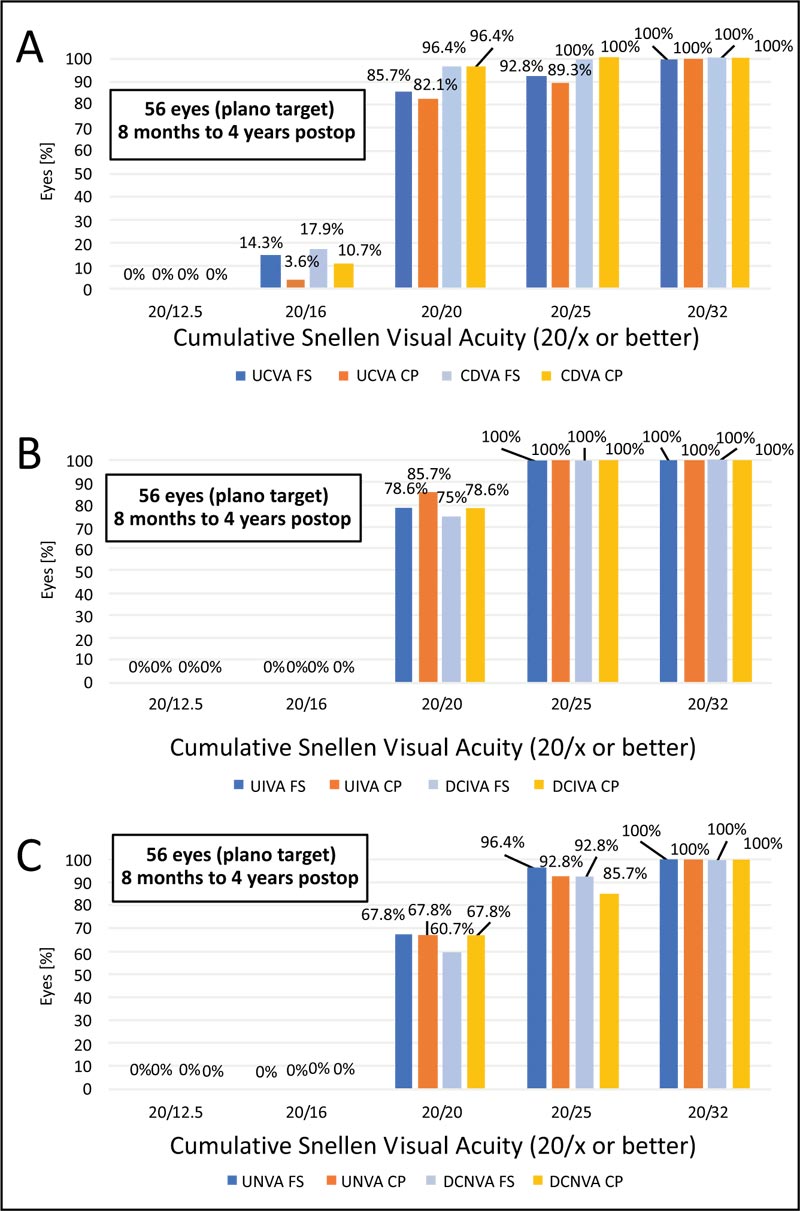 Background:
Lens surgery with multifocal IOL implantation for presbyopia correction is performed by femtosecond laser-assisted lens surgery or conventional phacoemulsification.
Objective:
To compare the clinical results of femtosecond laser-assisted with low-energy pulse conventional phacoemulsification lens surgery for presbyopia correction intraindividually.
Methods:
Charts from patients who underwent Refractive Lens Exchange (RLE) for presbyopia correction in a single center, with Femtosecond Laser-Assisted Lens Surgery (FLALS) in one eye and Conventional Phacoemulsification (CP) in the other, were retrospectively reviewed. All eyes had the same multifocal Intraocular Lens (IOL) implanted. The clinical outcomes and the results of the level of satisfaction questionnaire were compared between the two groups according to the technique employed (FLALS vs. CP) for a period of up to four years. Stability, efficacy and safety indices were also assessed.
Results:
This study comprised a total of 56 eyes of 28 patients randomly assigned FLALS in one eye and CP in the other. No statistically significant difference was observed between the two techniques regarding postoperative visual acuities, duration of surgical procedure, efficacy or safety indexes (p>0.05). Refraction was stable in all FLALS eyes, whereas a change occurred in 2 eyes (7.1%) operated with CP upon 6 months postoperatively, but without statistical significance (p˃0.05). Satisfaction was slightly better with FLALS but not statistically significant (p=0.134). No immediate myosis or other adverse events after the femtosecond laser were registered.
Conclusion:
The parameters assessed showed no significant differences between the two techniques, in spite of a difference of refraction stability upon 6 months postoperatively.
---
March 17, 2021