Aims and Scope
Ali A. Abusharha, Ali Al Yami, Khaled Alsreea, Raied Fagehi, Ali Alsaqr, Saud Alanazi, Ali Masmali
---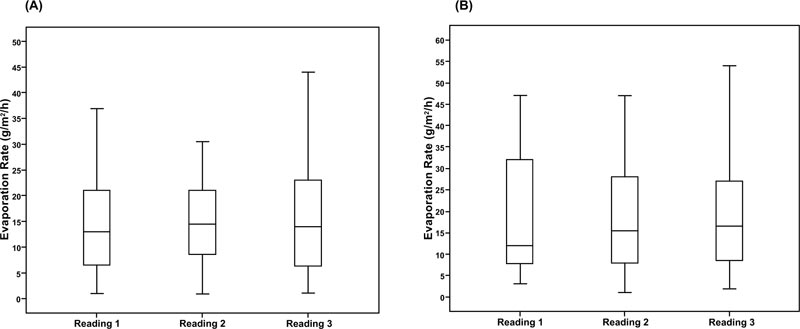 Purpose:
This study evaluates the repeatability and reproducibility of tear film evaporation rate measurement using a commercially available handheld closed-chamber evaporimeter (VapoMeter, Delfin Technologies, Finland).
Study Design:
This was a randomized observational study, in which two visits were required. At visit 1, screening tests were performed on the participants. Subsequently, tear evaporation was measured thrice by examiner 1 (E1). The procedure was then repeated by examiner 2 (E2) at visit 2.
Methods:
40 healthy participants with no ocular diseases were recruited for this study. A closed chamber evaporimeter was used in this study (VapoMeter, Delfin Technologies, Finland). Primary investigations, including slit-lamp examination, tear production test, and ocular discomfort, were performed during the first visit for the purpose of screening.
Results:
The mean of the three measurements of tear evaporation obtained by examiner 1 at visit 1 was 19.38 ± 0.79 g/m2/h, and the mean of the three readings obtained by examiner 2 at visit 2 was 20.49 ± 0.48 g/m2/h. The average Intraclass Correlation Coefficient (ICC) among the three readings of tear evaporation was 0.84 and 0.63 with a 95% confidence interval (CI) at visits 1 and 2, respectively. A comparison of the reliability of the measurements from the two examiners revealed an ICC of 0.69 with a 95% CI.
Conclusion:
The VapoMeter provides repeatable and reproducible measurements of tear film evaporation. This study demonstrates that the VapoMeter could provide clinicians with a readily available method for rapid evaluation of tear film evaporation. By considering the significance of tear evaporation as a diagnostic tool for dry eyes, the VapoMeter may help to diagnose better and manage dry eye syndrome.
---
July 14, 2021
Khalil M. Al-Salem, Ahmad T.S. Saif, Passant S. Saif
---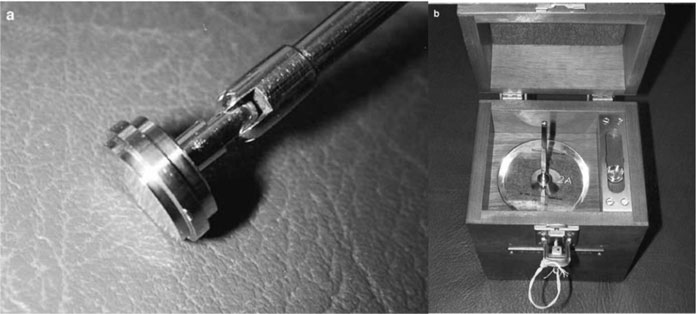 Purpose:
To compare the recurrence rate of primary pterygium surgery after the adjuvant use of Beta radiation, Mitomycin C, and conjunctival autograft.
Methods:
180 eyes of 180 patients were included in the study. All cases had primary pterygium excision following the use of adjuvant therapy of Beta radiation or Mitomycin C (0.02% for 5 minutes) or conjunctival autograft. The study was conducted at Fayoum University Hospital, Fayoum, Egypt, and Misr University Hospital. The patients were randomly divided into three groups, with each group comprising 60 patients. Group (A) included patients treated with Beta radiation following Pterygium excision, group (B) patients had primary pterygium excision with the application of 0.02% Mitomycin C for 5 minutes, and group (C) patients had conjunctival autograft to cover the bare area after pterygium excision. Patients were followed up for three years postoperatively.
Results:
group A had the highest recurrence rate (33.3%) followed by group B (13.3%), and finally group C presented a recurrence rate of 6.7%. Group B showed the highest rate of intra-ocular postoperative complications, while no intra-ocular complications were recorded in group C. Common complications in groups A and B were scleral melting, keratitis, and Dellen formation.
Conclusion:
Using conjunctival autograft after primary pterygium excision gives the best results regarding the rate of recurrence and postoperative complications. Meanwhile, B-radiation or Mitomycin C did not prove to be as good.
---
December 31, 2020