Aims and Scope
Humberto Carreras, Ángel G. García, David P Piñero
---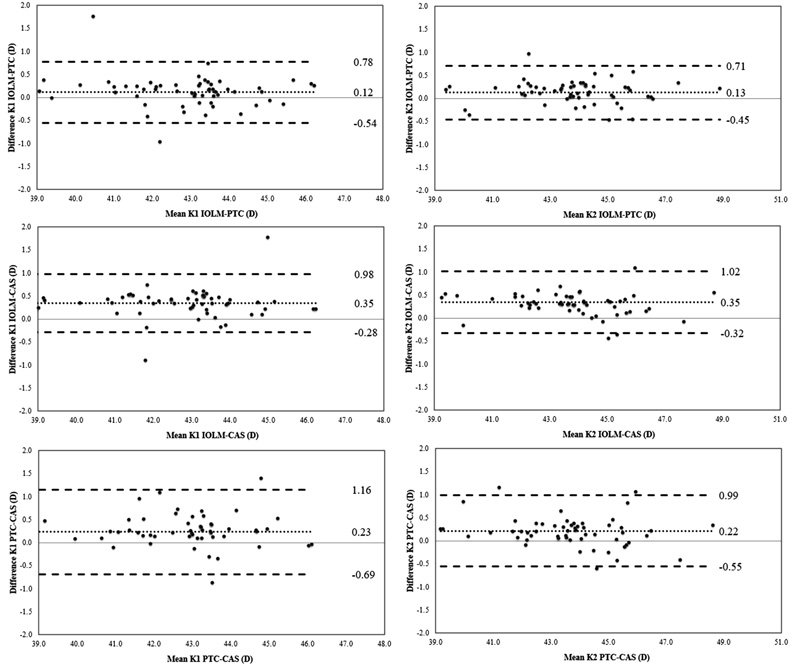 Purpose:
To compare the keratometric and total corneal astigmatism measures provided by three different technologies as well as to assess the level of interchangeability among them.
Methods:
A Prospective, comparative study enrolling 94 eyes from 53 patients (age, 29-77 years) was carried out. All participants were patients with the diagnosis of cataract or patients with a transparent crystalline lens but seeking surgical presbyopia correction. A complete eye examination was performed in all eyes, including corneal analysis with three different devices: IOL-Master 700 (Carl Zeiss Meditec), Cassini (i-Optics), and Pentacam (Oculus Optikgeräte GmbH). Interchangeability of standard and total keratometric readings (equivalent keratometric readings for Pentacam) and astigmatism measures with these three systems were evaluated with the Bland-Altman analysis.
Results:
Significantly higher standard and total keratometric readings were obtained with the IOL-Master compared to the other two systems (p<0.001). Likewise, a significantly higher magnitude of standard and total keratometric astigmatism was obtained with the Cassini system (p<0.001). Ranges of the agreement for corneal power measurements between devices varied from 0.58 D to 1.53 D, whereas they ranged from 0.46 D to 1.37 D for standard and total astigmatism measurements.
Conclusion:
Corneal power and astigmatism measures obtained with IOL-Master 700, Cassini, and Pentacam systems cannot be used interchangeably. The impact of these differences on the refractive predictability achieved with different types of intraocular lenses (IOL) should be evaluated in the future in order to define which is the best corneal evaluation approach for optimizing the IOL power calculations.
---
October 02, 2020
Burak Unlu, Ziya Ayhan, Banu Lebe, Suleyman Men, Ismet Durak, Ali Osman Saatci
---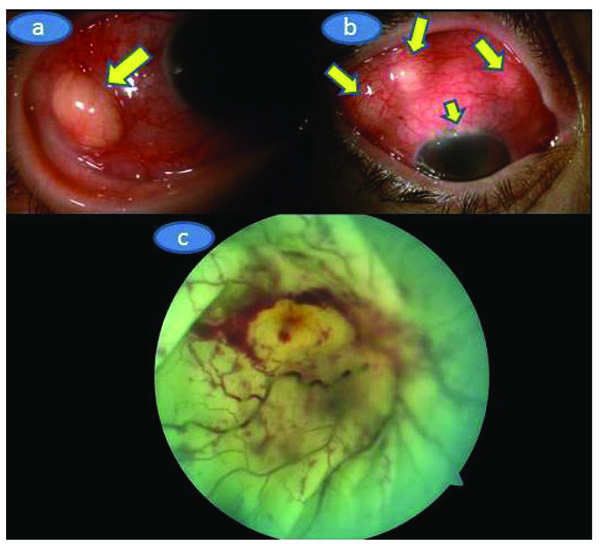 Objective:
To describe the features of a female patient with a biopsy-proven xanthogranulomatous infiltration of the conjunctiva, limbus and sclera who had an exudative retinal detachment, combined ophthalmic artery and central retinal vein occlusion unilaterally.
Method:
A-53-year old otherwise healthy woman presenting with a painful visual loss in her right eye underwent an ophthalmic examination, meticulous systemic work-up and histopathologic assessment.
Results:
Ophthalmic examination revealed multiple subconjunctival masses, upper limbal infiltrations, trace cells in the anterior chamber, pale looking posterior fundus, 360 degree scattered retinal hemorrhages and marked exudative retinal detachment in her right eye. Left eye was completely normal.A biopsy taken from one of the subconjunctival masses demonstrated a diffuse infiltration of the histiocytes and this was interpreted as a xanthogranulomatous infiltration with the help of immunohistochemical staining techniques.
Conclusion:
Present case is the only reported adult case with xanthogranulomatous-like infiltration of the eyeball featuring both anterior and posterior segment involvement without any concomitant major systemic disturbances.
---
November 23, 2017