Aims and Scope
Mushfig Karimov, Lala Akhundova
---
Introduction:
The purpose of this work is to study the efficacy of the preoperative intravitreal administration of bevacizumab as an adjunct to vitrectomy in patients with Proliferative Diabetic Retinopathy (PDR).
Methods:
This retrospective comparative study was performed on 118 eyes (118 patients) with proliferative diabetic retinopathy (PDR), which underwent vitrectomy surgery at the Department of Diabetic Eye Disease at Zarifa Aliyeva National Ophthalmology Centre (Baku, Azerbaijan) in 2015-2019. The main group (the bevacizumab group) included 48 eyes with PDR that received intravitreal administration of bevacizumab (Avastin; Genentech Inc., USA) within one week before vitrectomy; the control group included 70 eyes that did not receive a bevacizumab injection for at least 3 months before the vitrectomy. The minimum follow-up was 12 months.
Results:
In both groups, complete retinal attachment after primary vitrectomy was achieved in all eyes (100%). Clinically significant intraoperative haemorrhage was observed in the preoperative bevacizumab injection group in 31.2% and the control group- 51.4%, p = 0.030. The preoperative bevacizumab injection reduced the risk of clinically significant haemorrhage by 2.3 times and the need for endodiathermy by 2.7 times (p = 0.031 and p = 0.024, respectively). Early vitreous cavity haemorrhage was observed in 15.0% in the bevacizumab group and in 35.5% in the control group (p = 0.038). The preoperative injection of bevacizumab before vitrectomy reduced the risk of vitreous cavity haemorrhage in the early postoperative period by 3.0 times (p = 0.036).
Conclusion:
The preoperative use of bevacizumab as an adjunct to diabetic vitrectomy can help reduce the incidence of intraoperative and early postoperative vitreous cavity haemorrhage, which leads to better functional results in the early postoperative period. Over the long-term follow-up period, the effect of the preoperative bevacizumab injections decreases.
---
August 24, 2021
Ramiro M. P. C. Salgado, Paulo F. A. A. S. Torres, António A. P. Marinho
---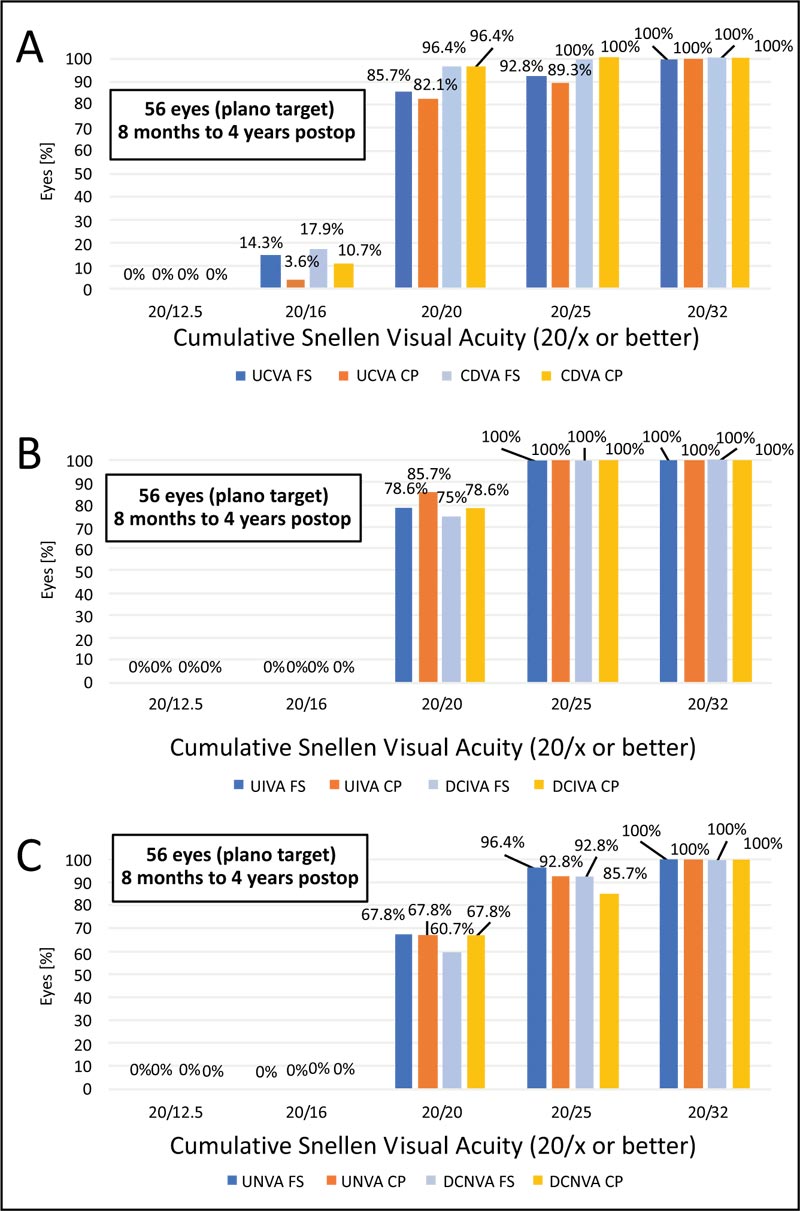 Background:
Lens surgery with multifocal IOL implantation for presbyopia correction is performed by femtosecond laser-assisted lens surgery or conventional phacoemulsification.
Objective:
To compare the clinical results of femtosecond laser-assisted with low-energy pulse conventional phacoemulsification lens surgery for presbyopia correction intraindividually.
Methods:
Charts from patients who underwent Refractive Lens Exchange (RLE) for presbyopia correction in a single center, with Femtosecond Laser-Assisted Lens Surgery (FLALS) in one eye and Conventional Phacoemulsification (CP) in the other, were retrospectively reviewed. All eyes had the same multifocal Intraocular Lens (IOL) implanted. The clinical outcomes and the results of the level of satisfaction questionnaire were compared between the two groups according to the technique employed (FLALS vs. CP) for a period of up to four years. Stability, efficacy and safety indices were also assessed.
Results:
This study comprised a total of 56 eyes of 28 patients randomly assigned FLALS in one eye and CP in the other. No statistically significant difference was observed between the two techniques regarding postoperative visual acuities, duration of surgical procedure, efficacy or safety indexes (p>0.05). Refraction was stable in all FLALS eyes, whereas a change occurred in 2 eyes (7.1%) operated with CP upon 6 months postoperatively, but without statistical significance (p˃0.05). Satisfaction was slightly better with FLALS but not statistically significant (p=0.134). No immediate myosis or other adverse events after the femtosecond laser were registered.
Conclusion:
The parameters assessed showed no significant differences between the two techniques, in spite of a difference of refraction stability upon 6 months postoperatively.
---
March 17, 2021