Aims and Scope
Francisco de Borja Domínguez-Serrano, Marina Soto-Sierra, María González-del Pozo, María José Morillo-Sánchez, Manuel Ramos-Jiménez, Mireia López-Domínguez, Beatriz Ponte-Zuñiga, Guillermo Antiñolo-Gil, Enrique Rodríguez de la Rúa-Franch
---
Purpose:
To describe the clinical and genetic characteristics (mutation in RS1 gene) of a Spanish family with X-linked retinoschisis (XLRS) associated with retinitis punctata albescens (RPA).
Methods:
The detailed ophthalmological examination included best corrected visual acuity (BCVA), colour and autofluorescence photography, fluorescein angiography, optical coherence tomography and electrophysiology tests. A next-generation sequencing (NGS) strategy was applied to the index patient, and then sequenced in an Illumina NextSeq500 system. Candidate variants considered to be disease-causing in the patient were confirmed and segregated in the family by Sanger sequencing.
Results:
We have studied three siblings of 54, 59 and 50 years old. Two of them presented with macular foveoschisis and a whitish mottling of the pigment epithelium in the peripheral and equatorial retina, while the other had macular atrophy. Electroretinography revealed a reduced b-wave, while a-wave remained unchanged. Mutation in RS1 (c.98G>A; p.Trp33*) was identified as the cause of the disease.
Conclusion:
XLRS is a genetic disease that leads to irreversible visual loss. We describe an unusual phenotype manifestation of a known mutation.
---
October 05, 2021
Ramiro M. P. C. Salgado, Paulo F. A. A. S. Torres, António A. P. Marinho
---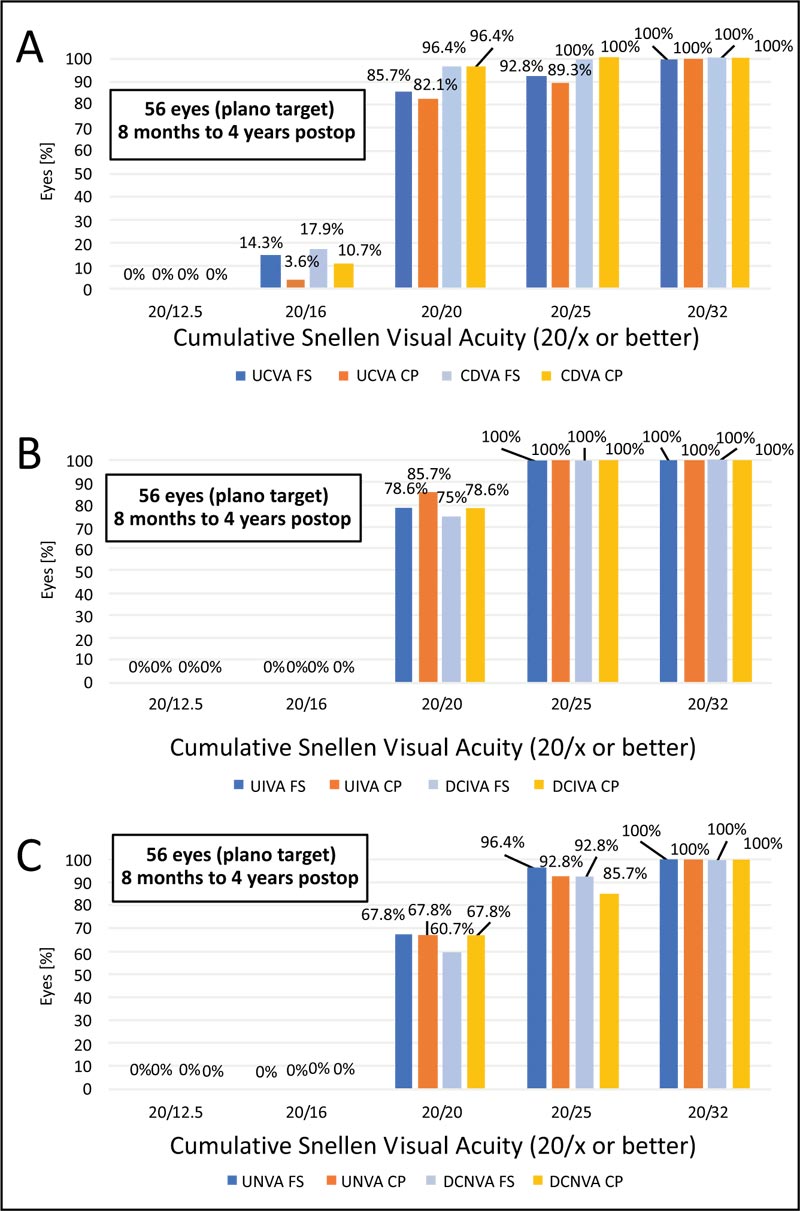 Background:
Lens surgery with multifocal IOL implantation for presbyopia correction is performed by femtosecond laser-assisted lens surgery or conventional phacoemulsification.
Objective:
To compare the clinical results of femtosecond laser-assisted with low-energy pulse conventional phacoemulsification lens surgery for presbyopia correction intraindividually.
Methods:
Charts from patients who underwent Refractive Lens Exchange (RLE) for presbyopia correction in a single center, with Femtosecond Laser-Assisted Lens Surgery (FLALS) in one eye and Conventional Phacoemulsification (CP) in the other, were retrospectively reviewed. All eyes had the same multifocal Intraocular Lens (IOL) implanted. The clinical outcomes and the results of the level of satisfaction questionnaire were compared between the two groups according to the technique employed (FLALS vs. CP) for a period of up to four years. Stability, efficacy and safety indices were also assessed.
Results:
This study comprised a total of 56 eyes of 28 patients randomly assigned FLALS in one eye and CP in the other. No statistically significant difference was observed between the two techniques regarding postoperative visual acuities, duration of surgical procedure, efficacy or safety indexes (p>0.05). Refraction was stable in all FLALS eyes, whereas a change occurred in 2 eyes (7.1%) operated with CP upon 6 months postoperatively, but without statistical significance (p˃0.05). Satisfaction was slightly better with FLALS but not statistically significant (p=0.134). No immediate myosis or other adverse events after the femtosecond laser were registered.
Conclusion:
The parameters assessed showed no significant differences between the two techniques, in spite of a difference of refraction stability upon 6 months postoperatively.
---
March 17, 2021